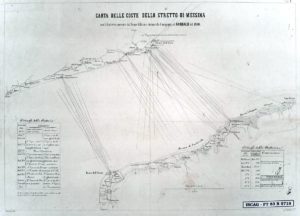 The Forts of the Messina Strait were realized by the Staff of the Army on the basis of the Engineers
Service projects, based on the pre-existent models of the time with weaponry on fixed stations.
The resulting model is simple and minimal -and in the case of the Messina Strait, built to face
attacks from the sea. The Forts were built by exploiting the natural shape of the two banks of the
Strait: the Peloritani mountains on the Sicilian side and the slopes of the Aspromonte on the
Calabrian side. This configuration made the Forts invisible from the sea, with their back sides
protected traditionally through moats, caponiers and draw bridges. The peculiar trait of the forts
is the perfect harmony among location and environment, which allowed the Forts to be located in
panoramic areas overlooking a unique coast and sea by granting invisibility of the fortifications
and effective maintenance of the buildings. The building material is made of blank local stones,
bricks and lava rocks on the Sicilian side.
Among the forts system, we can identify different kinds of Batterie (Forts):
1. Big Batterie – MATINITI SUPERIORE (SIACCI), BATTERIA POLVERIERA (MASOTTO):
Bigger Forts equipped with various interior areas to host troops. They have a trapezoidal
shape, juxtaposed on the front by a triangular shape, circled by a deep moat with thick
walls. These forts are normally located on higher grounds and are equipped with numerous
underground areas. They had a considerable firing capacity and an hosting capacity varying
from 450 to 1000 soldiers.
2. Medium-sized Forts – MENAJA (CRISPI), MONTE GIULITTA (SCHIAFFINO), MONTE GALLO
(CAVALLI), S. JACHIDDU, SERRA DELLA CROCE, MONTE DEI CENTRI on the Sicilian side;
MATINITI INFERIORE, POGGIO PIGNATELLI, PENTIMELE NORD, PENTIMELE SUD, PIANO DI
ARGHILLà (GULLI') on the Calabrian side.
The most common model consisting of quadrangular-shaped forts with three sides closed by
an embankment and the northern side protected by a moat, caponier and drawing bridge.
These fortifications are smaller and hosting capacity is lower. Nearly all forts have a moat on
three sides, while Matiniti Inferiore, Poggio Pignatelli and Pentimele Sud are entirely circled by
a moat on all sides.
3. Small-sized forts – OGLIASTRI in Sicily and CATONA and TELEGRAFO (BELENO) in Calabria
A common feature of these forts is to be aligned with bigger structures, usually located uphill.
They are characterized by their small dimension and the lack of higher structures due to both
their proximity to the coast and their function of outposts. They also lack a parade ground.
4. Mountain forts – PIETRAZZA, PUNTAL FERRARO, MONTE DEI CENTRI, MONTE CAMPONE, all
on the Sicilian side.
They are located on the higher hills of the Peloritani mountains and feature a simplified system
compared to the standard model. They are equipped with a main block detached by the wall
and moat on the northern side, have a straight shape and one only access pad on the northern
side.
Fonte: M. Lo Curzio, V. Caruso "La fortificazione permanente dello Stretto di Messina" edizione Edas